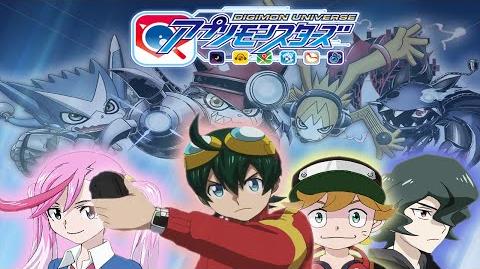 Digimon Universe: Appli Monsters is a Japanese anime. The anime adaptation of the series began airing on all TXN stations in Japan on October 1, 2016, replacing Time Travel Girl on its original timeslot. The series's opening theme from episodes 1 to 25 is "DiVE" by Amatsuki and from episode 26 onwards, "Gatchen!" by SymaG. The ending theme from episodes 1 to 13 is "Aoi Honoo Syndrome" (青い炎シンドローム? Aoi honō shindorōmu, "Blue Flame Syndrome") by Riho Iida, while from episodes 14 to 25, the ending theme is "Ai" (アイ?, "Eye") by Ami Wajima and from episode 26 to 38, "Little Pi" by Ange☆Reve and from episode 39 to 52, "Perfect World" (パーフェクトワールド) by Traffic Light.
Episode List
No.
Title
Original air date
1
The Search Result is Haru Shinkai! Gatchmon Appears!

Kensaku Kekka wa Shinkai Haru! Gacchimon Arawaru! (検索結果は新海ハル!ガッチモンあらわる!)

October 1, 2016
2
The Mysterious Guide! I am Navimon!

Ayashiki Michisaki An'nainin! Sessha Nabimon de gozaru! (あやしき道先案内人!拙者ナビモンでござる!)

October 8, 2016
3
The Role of Culture in Nature's Garb!? Roleplaymon's School Dungeon!

Sodateta Kyara ga Supponpon!? Rōpuremon no Gakkō Danjon! (育てたキャラがスッポンポン!?ロープレモンの学校ダンジョン!)

October 15, 2016
4
Take Your Dressing! Cameramon's Halloween Scandal!

Kasō no Kimi o ui tadakimasu! Kyameramon no Harowin Sukyandaru! (仮装のキミをうぃただきます!キャメラモンのハロウィンスキャンダル!)

October 22, 2016
5
An Explosive Punch to Your Heart! Eri is the Appmon Idol!

Anata no Hāto ni Dokkan Panchi! Eri wa Apumon Aidoru! (あなたのハートにドッカンパンチ!エリはアプモンアイドル!)

October 29, 2016
6
The Best Gourmet Report! Gourmet Appli, Perorimon!

Saikō no Gurume Repōto! Gurume Apuri・Perorimon! (最高のグルメレポート!グルメアプリ・ペロリモン!)

November 5, 2016
7
The third Appli Drive! Torajirou is the Apptuber!

Mitsume no Apuri Doraivu! Torajirō wa Apu Chūbā! (3つ目のアプリドライヴ!虎次郎はアプチューバー!)

November 12, 2016
8
The Super Suck Big Pinch!? Astra's Great "Interesting Animation" Operation!

Dai Pinchi de Chō Norenē!? Asutora no Omoshiro Dōga Daisakusen! (大ピンチで超ノレねえ!?アストラのおもしろ動画大作戦!)

November 19, 2016
9
Aim at the Rated Number One! Appmon Championship in Cyber Arena!

Mezase Kakuzuke Nanbāwan! Apumon Senshuken In Saibā Arīna! (めざせ格付けナンバーワン!アプモン選手権 イン サイバーアリーナ!)

November 26, 2016
10
The Appmon's Long-Awaited! The Legend Seven Code Meeting!

Apumon tachi no Akogare! Densetsu no Sebun Kōdo Kai! (アプモンたちのあこがれ!伝説のセブンコード会!)

December 3, 2016
11
Dive into the Net Ocean! Chasing to the Super Hacker, Rei!

Netto no Umi ni Daibu seyo! Sūpā Hakkā Rei o Oe! (ネットの海にダイブせよ!スーパーハッカー レイを追え!)

December 10, 2016
12
Defeating Sakusimon with Super Applink!

Sakushimon Chō Apurinku de Uchiyabure! (サクシモン 超アプリンクで 打ち破れ!)

December 17, 2016
13
The Christmas Disappeared!? The Calendar Thief Calendarmon!

Kurisumasu ga Kiechatta!? Koyomi Dorobō Karendamon! (クリスマスが消えちゃった!?暦泥棒カレンダモン!)

December 24, 2016
14
The City Becomes Puzzle Game!? Puzzlemon Runaway!

Machijū ga Pazuru Gēmu!? Pazurumon Dai Bōsō! (街中がパズルゲーム!?パズルモン大暴走!)

January 7, 2017
15
See Through the Future!? Mysterious Fortune Teller, Tellermon

Mirai wa Zenbu Mieteiru!? Shinpi no Uranai・Terāmon (未来は全部見えている!?神秘の占い・テラーモン)

January 14, 2017
16
The Message that Transcends Time - The Truth About the AppliDrive

Toki" o Koeta Messēji - Apuri Doraivu no Shinjitsu (『トキ』を超えたメッセージ アプリドライヴの真実)

January 21, 2017
17
Eri is Multiplying by Copy-paste?! Reclaim, the Stage of Dreams!

Eri ga Kopipe de Daizōshoku!? Torimodose, Yume no Sutēji! (エリがコピペで大増殖!?とりもどせ、夢のステージ! )

January 28, 2017
18
Haru and Yūjin's Bond - Stop! Rampaging Resshamon!

Haru to Yūjin no Kizuna - Tomero! Bōsō Resshamon! (ハルと勇仁の絆 止めろ!暴走レッシャモン!)

February 4, 2017
19
The Net Ocean in a Big Pinch! The Time is Here, Ultimate AppFusion!!

Netto no Umi ga Dai Pinchi! "Toki" wa Ki ta, Kiwami Apu Gattai!! (ネットの海が大ピンチ!『トキ』は来た、極アプ合体!!)

February 11, 2017
20
Goodbye Astra!? Dreamon's Nightmare!

Sayonara Asutora!? Dorīmon no Akumu! (さよならアストラ!?ドリーモンの悪夢!)

February 18, 2017
21
The Way to the Top Idol! Coachmon's Intensive Training!

Toppu Aidoru e no Michi! Kōchimon no Mō Tokkun! (トップアイドルへの道!コーチモンの猛特訓!)

February 25, 2017
22
Lend me Your Power - Rei and Hackmon, Encounter in that Day

Omae no Chikara o Ore ni Kase - Rei to Hakkumon, Ano Hi no Deai (お前の力を俺に貸せ レイとハックモン、あの日の出会い)

March 4, 2017
23
Take Back the Seven Code Appmon! Showdown Ultimate vs Ultimate!

Torimodose Sebun Kōdo Apumon! Taiketsu Kiwami tai Kiwami! (とりもどせセブンコードアプモン!対決 極VS極!)

March 11, 2017
24
Super Giant Cometmon Invasion!? Open the Door, Dantemon!

Chō Kyodai Komettomon Shūrai!? Tobira o Hirake, Dantemon! (超巨大コメットモン襲来!?扉をひらけ、ダンテモン!)

March 18, 2017
25
Infiltrating to the Deep Web at last! The Mysterious Cyber Kowloon!

Tsuini Sennyū Dīpu Webu! Nazo no Saibā Kūron! (ついに潜入ディープウェブ!謎のサイバー九龍!)

March 25, 2017
26
I am the Protagonist!? Encounter with Gatchmon

Boku ga Shujinkō!? Gacchimon to no Deai (ボクが主人公!?ガッチモンとの出会い)

April 1, 2017
27
The Fifth AppliDriver!

Goninme no Apuri Doraivā! (五人目のアプリドライヴァー!)

April 8, 2017
28
The AppliDrive DUO! Offmon Appears

Apuri Doraivu Dyuo! Ofumon Arawaru (アプリドライヴDUO!オフモンあらわる)

April 15, 2017
29
Buddies no More!? Gatchmon's Run away from home

Badi Kaishō!? Gacchimon no Iede (バディ解消!?ガッチモンの家出)

April 22, 2017
30
Dokamon's Love!? Gourmet Appli, Marypero Invasion!

Dokamon no Koi!? Gurume Apuri・Maripero Shūrai! (ドカモンの恋!?グルメアプリ・マリペロ襲来!)

April 29, 2017
31
The Traveling Companion!? Tripmon's Terrible Trip

Tabi wa Michizure!? Torippumon no Kyōfu Torippu (旅は道連れ!?トリップモンの恐怖トリップ)

May 6, 2017
32
Everyone to Take you Out! The Self-Withdrawal Offmon!

Minna de Tsuredase! Hikikomori no Ofumon! (みんなで連れ出せ!引きこもりのオフモン!)

May 13, 2017
33
The Senior High School Student CEO! Knight Unryūji Appears!

Kōkōsei CEO! Unryūji Naito Arawaru! (高校生CEO!雲龍寺ナイトあらわる!)

May 20, 2017
34
Thank you Future! Welcome to the City of Artificial Intelligence!

Sankyū Mirai! Jinkōchinō no Machi e Yōkoso! (サンキュー未来!人工知能の街へようこそ!)

May 27, 2017
35
Aim to be the God 9! The General Election of AppliYama 470!

Mezase Kyūnin Goddo! Apuri Yama 470 Sōsenkyo! (めざせ9人ゴッド!アプリ山470総選挙!)

June 3, 2017
36
The Conclusion of General Election! The Hand of Devil Approaching to Eri!

Sōsenkyo Kecchaku! Eri ni Semaru Manote! (総選挙決着!エリに迫る魔の手!)

June 10, 2017
37
Invasion! The Ultimate Appmons, Ultimate 4!

Shūrai! Kiwami Apumon・Arutimetto 4! (襲来!極アプモン・アルティメット4!)

June 17, 2017
38
Take Back the Gatchmon! Grandpa Den'emon's Trial!

Gacchimon o Torimodose! Den'emon Jīchan no Shiren! (ガッチモンを取り戻せ!電衛門じいちゃんの試練!)

June 24, 2017
39
The New Power! The AppliDrive DUO!

Aratana Chikara! Apuri Doraivu Dyuo! (新たな力!アプリドライヴDUO!)

July 1, 2017
40
Ultimate 4 Returns! Cloud's Challenge Letter!

Arutimetto 4 Futatabi! Kuraudo no Chōsenjō! (アルティメット4再び!クラウドの挑戦状!)

July 8, 2017
41
The Ultimate Fierce Fighting! Globemon vs. Charismon!

Kyokugen no Gekitō! Gurōbumon tai Karisumon! (極限の激闘!グローブモンVSカリスモン!)

July 15, 2017
42
Rei's Determination! The Great "Search for Hajime" Operation!

Rei no Ketsui! Hajime Sōsaku Daisakusen! (レイの決意!はじめ捜索大作戦!)

July 22, 2017
43
Wake Up, Sleepmon! The Appmon Championship Reopening!!

Mezamero, Surīpumon! Apumon Senshuken Futatabi!! (目覚めろ、スリープモン!アプモン選手権再び!!)

July 29, 2017
44
Chasing to the Fugitive, Bootmon!

Mezamero, Surīpumon! Apumon Senshuken Futatabi!! (逃亡者・ブートモンを追え!)

August 5, 2017
45
The Big Crash!? Gatchmon vs Agumon!

Daigekitotsu!? Gacchimon tai Agumon! (大激突!?ガッチモンVSアグモン!)

August 12, 2017
46
The Oath Beneath the Starry Sky! The Great "Rescue for Astra" Operation!

Hoshizora no Chikai! Asutora Kyūshutsu Daisakusen! (星空の誓い!アストラ救出大作戦!)

August 19, 2017
47
The Truth about Yūjin

Yūjin no Shinjitsu (勇仁の真実)

August 26, 2017
48
Starting! The Design of Humanity Application!

Kidō! Jinrui Apurika Keikaku! (起動!人類アプリ化計画!)

September 2, 2017
49
The Miraculous Final Evolution! The God Appmon Advent!

Kiseki no Saishū Shinka! Kami Apumon Kōrin! (奇跡の最終進化!神アプモン降臨)

September 9, 2017
50
The Bond of Hope! Haru and Gaiamon!!

Kibō no Kizuna! Haru to Gaiamon!! (希望の絆!ハルとガイアモン!!)

September 16, 2017
51
The Dream of Artificial Intelligence

Jinkōchinō no Miru Yume (人工知能の見る夢)

September 23, 2017
52
Our Singularity

Bokutachi no Shingyuraritī (ボクたちのシンギュラリティー)

September 30, 2017
Community content is available under
CC-BY-SA
unless otherwise noted.